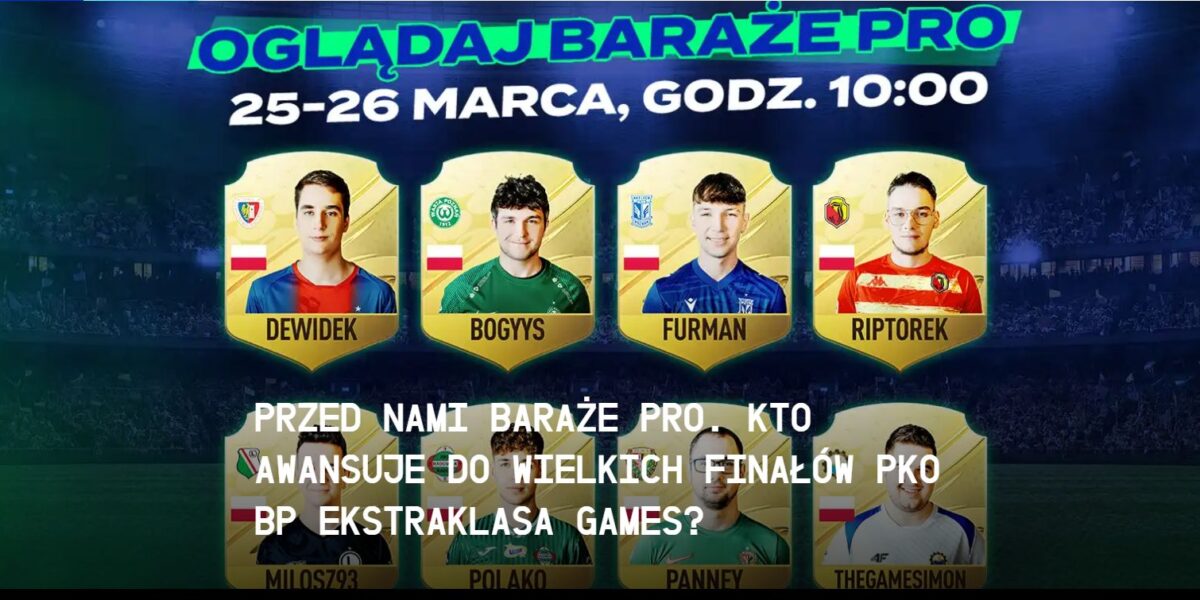 End of the PKO BP Ekstraklasa Games regular season
on 25-26 March, the PRO barracks will take place, which will be the last stop before the PKO BP Ekstraklasa Games Grand Finals. There are eight players left in the game and only the best two will guarantee promotion to the final weekend, during which the fate of the championship title will be decided.
The players will compete in the Polsat Games studio in Warsaw. All matches will be available to watch during the official broadcast on the Polsat Games channel, the station's Twitch and Youtube channels, as well as on Facebook PKO BP Ekstraklasa Games. The stream on Saturday and Sunday will start at 10:00.
This will be the first LAN tournament of the season after an exciting regular phase. Fierce rivalry took place in it until the last round. The players who finished 5th-12th in the league competition finally secured their place in the play-offs.
Full list of participants in the PRO playoffs:
● Dawid "Dewidek" Kamasiński, Piast Gliwice
● Dominik "Bogyys" Boguś, Warta Poznań
kacper "Furman" Furmanek, Lech Poznań
● Kamil "Riptorek" Soszyński, Jagiellonia Białystok
miłosz "milosz93" Bogdanowski, Legia Warszawa
gracjan "polako" Gołębiewski, Radomiak Radom
● Dominik "panneypl" Panek, Śląsk Wrocław
● Szymon "thegamesimon" Bartkiewicz, Stal Mielec
In the barracks, players will start the tournament in two groups of four. A double elimination ladder (GLS) will be played in each group. The winners of the top and bottom ladder finals in groups A and B will advance to the knockout stage, where they will fight for two places ensuring promotion to the PKO BP Ekstraklasa Games Grand Finals. These will take place on 1-2 April and will feature eight players (six from the PRO formula and two from OPEN).